Share: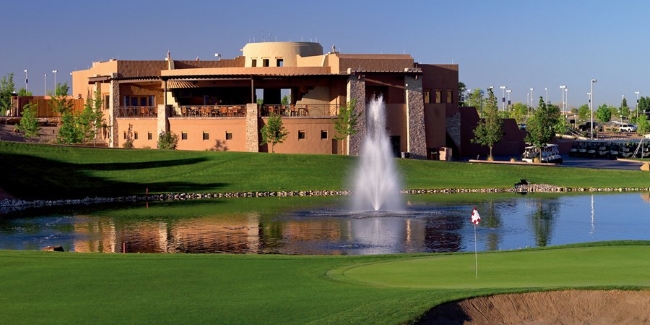 New Mexico High-Desert Masterpieces
Mountains and desert combine to create great golf in Albuquerque
By Steve Habel
One of the great joys of playing golf is discovering top-quality locations that others might have overlooked or never even considered. Albuquerque is one of those places, a destination in which golfers can enjoy a little bit of everything that's great about the game at excellent courses and resorts.

One of the most famous stops along Route 66, Albuquerque is the largest city in New Mexico as roughly half the people in the state live in the city and the surrounding area. More than 4 million tourists flock to the high-desert each year, drawn by the temperate climate and over-the-top scenery.

Golf here is a 12-month sport, with public access courses that run the gamut from municipal tracks to daily fee facilities to college courses and wonderful casino-based routings.

The variety and overall quality of the golf offerings in the area make it a must-visit destination for golfers in search of challenging tracks and unlimited off-the-course fun that rivals better-known destinations such as Scottsdale, Myrtle Beach and the Coachella Valley.

There is little subtlety involved with golf at the Isleta Eagle Golf Course, probably because the track is an amenity of the burgeoning Hard Rock Hotel and Casino right across the highway.

Variety is the draw at Isleta Eagle, designed by Bill Phillips and opened for play in 1996. The facility offers golfers three nine-hole courses that can be played in three 18-hole combinations, all perched on the Pueblo of Isleta's vast reservation just five minutes south of Albuquerque.

The courses, which are located along the Rio Grande River, feature typical desert conditions with panoramic views from their tee boxes. The greens are medium-sized and have contour, and the fairways are also undulating, which leads some challenging uneven lies, with natural roughs on the borders.

The tracks are named after their primary topographic feature - Lakes, Arroyo and Mesa. Each has a different character. Of the three combinations, the toughest is Mesa-Lakes, which carries a rating of 74.7 and a slope of 128. Lakes-Arroyo is rated at 72.7 and sloped at 125 and Arroyo-Lakes has been rated at 72.4 and sloped at 124. In any grouping, a round at Isleta Eagle is both challenging and satisfying.

Just a few minutes north of the Isleta Eagle GC, right along the east side of the highway, sits the Championship Golf Course at the University of New Mexico. Once rated the top course you can play in the state, the UMN Golf Course remains one of the finest golfing venues in the nation, thanks to a combination of long holes and a demanding routing, all amplified by the ever-blowing wind.

The UNM Golf Course opened in 1967 and has enjoyed a number of renovations over the past 30-odd years. Architect Robert (Red) Lawrence utilized the naturally hilly terrain on the site to create wide, rolling and sloping fairways with many elevation changes.

Long and tough from the tournament tees - where it plays to a par of 72 at 7,562 yards and carries a slope of 75.4 and a rating of 135 - the track is not a true desert course, even as its holes meander through desert-like terrain that serves as home to a variety of wildlife including rabbits, roadrunners, owls and hawks.

Stray shots are penalized harshly by thick rough and unforgiving bunkers. If you do find the fairways, a premium is placed on club selection due to the elevation change and the wind, and both hamper your ability to fit your shots onto rolling greens. The putting surfaces feature hills and multiple breaks and the speed of the greens add tests that many golfers can't pass.

At the northern edge of the city sits the opulent and fun Sandia Resort and Casino, the home of an expansive and big-shouldered and infinitely fun Sandia Golf Course designed across the desert moonscape by Scott Miller, who designed the award-winning layouts at We-Ko-Pa Golf Club in Arizona and The Coeur d'Alene Resort in Idaho.

Carded at 7,772 yards from its back set of four tees, it is the longest course in New Mexico but doesn't play to its yardage thanks to a number of elevated tee shots and rolling fairways that push the wayward shot back into play.

Laid out between the hotel and the mountains with a pueblo-style clubhouse and patio for lunch, Sandia GC is a course with a view - the mountains off one shoulder and the Rio Grande Valley off the other. It encompasses strategically placed hazards, challenging green complexes and panoramic views of the Sandia Mountains, the Rio Grande River, the Corrales Bosque and the greater Albuquerque area.

Fairway bunkers - there are 48 on the course - come into play from all tee complexes, and each hole gives the illusion of offering far less landing area than is actually available and transition areas of decomposed granite and sparse desert landscaping line the fairways.

Don't be intimidated by Sandia GC's length - it's a friendly and fun track with lots of opportunity to attack and few places that will balloon your score.

A little further out of the city but still within an easy and picturesque drive is one of the nation's top public tracks, Paa-Ko Ridge, a 27-hole facility routed among rolling arroyos, native vegetation and rock outcroppings.

Designed by Texas-based Ken Dye (who also fashioned Pinon Hills in Farmington, New Mexico's top-rated course), Paa-Ko Ridge is carved through a forest of pinon and juniper evergreens with some specimen ponderosa pines near the landing areas and greens and stands apart from the region's other high-desert courses.

Opened for play in April 2000 and expanded to 27 holes in 2005, Paa-Ko Ridge features multiple mountain views, strong shot values and a serenity that seems synonymous with the quality golf you will find in the Land of Enchantment. The course also sports lots of big, bold features, undulating putting surfaces and offers plenty of risk-reward opportunities.

The course set at elevations ranging from 6,500 to 7,000 feet. Its original 18-hole layout plays to a par of 72 and at a lengthy, but not overwhelming, 7,562 yards and sports a healthy rating of 75.2 and slope of 138. Holes 19-27 carry another 3,842 yards (actually the longest nine-hole section at Paa-Ko Ridge) and are a real delight for the golfer who just can't get enough of the challenges and fun at Paa-Ko Ridge.

The golf is stimulating, the views are breathtaking and the experience is unforgettable. Paa-Ko Ridge feels like a vacation getaway. It's a track you can play every day and never tire of - the highest compliment a golfer can give any course.

There's something great about playing golf in New Mexico - maybe it's the fine lineup of mountainside courses, the 310 days of sunshine, the low humidity or perhaps the overall affordability. It feels like you are discovering a bit of hidden treasure that you can't wait to share with other golfers. Go and enjoy.






Revised: 11/30/2015 - Article Viewed 33,070 Times
About: Steve Habel
---

Steve Habel is a contributing editor for GolfTrips and its associated websites. A 26-year industry veteran, he regularly contributes to various regional, national and international golf publications and has played and written about more than 1,600 golf courses around the world.

Habel is also senior editor for Horns Illustrated magazine, a publication focusing on University of Texas sports, as well the San Antonio Spurs beat writer for The Sports Xchange. He is a correspondent for the Austin American-Statesman and frequently files stories and features for The Associated Press and Preferred Lifestyle magazine.

Habel, who lives in the Austin, Texas area, has worked media coordinator for World Golf Hall of Fame player and golf architect Tom Kite as well as for renowned golf architects Roy Bechtol and Jeffrey D. Brauer.

He is a member of the Golf Writers Association of America, the Texas Golf Writers Association and the Football Writers Association of America.

---
More Articles by Steve Habel
More Related Articles